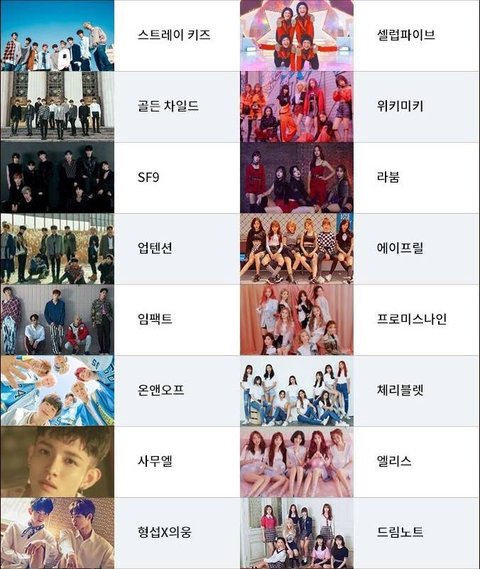 Men: Exo, Super Junior, iKON, Seventeen, Monsta X, Astro, NCT 127, The Boys, Stray Kids, Golden Child, SF9, Up10tion, Impact, ONF, Samuel, Hyungseob x Euiwoong, In2it, D-Crunch, A-Teez, Noir, TRCNG, Voisper, Black6ix, 14U, Seven O'Clock, Mont
Women: Twice, Red Velvet, GFriend, Gugudan, Momoland G-IDLE, IZONE, WJSN, Celeb Five, WekiMeki, Laboum, April, Fromis9, Cherry Bullet, Elris, Dream Note, Hashtag, Nature, Hey Girls, Lip Bubble, Icia, GWSN, Holics, S.I.S, H.U.B
It was released on their official homepage!
The line up for ISAC 2019.
I'm so relieved that my bias is not participating on ISAC next year..ㅠㅠ
[+203][-6]
1. [+192][-1] I'm so f*cking happy that my bias is excluded.. Finally!
2. [+143][-1] Why is SM participating this year..
3. [+72][-4] Do they really have to participate in this show? They have to wait for hours and could hurt themselves just for the show. I know that it's a good opportunity for rookies to gain attention, I just feel sorry and bad for them..
4. [+58][-0] Celeb Five..ㅋㅋㅋㅋㅋ They're the oldest participants in this show, the ones who lay down the most, and the one who will get tired the most as well. But they have to participate since they're still considered rookies in the music industry..
5. [+51][-1] No VIXX and BTS, hurray<3
6. [+43][-1] I love you, Big Hit..ㅠㅠㅠ
7. [+24][-0] VIXX is finally not participating on the show.. Throw the party!
8. [+20][-1] EXO still participates?? I mean, don't seniors rarely go on this show? Just let them have some rest instead..
9. [+16][-0] My bias is not participating at all..ㅋㅋㅋ I hope he gets to rest comfortably..ㅋㅋ
10. [+15][-2] Why is EXO in the line up??
Continue reading

Line up for ISAC 2019 has been released